May Check-in
This is my May check-in. Starting in June I'll check in on the first of the month.
My starting weight on May 1, 2006 was 323 pounds. Unfortunately, today was the first time I've taken my measurements.
||

||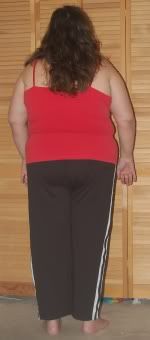 Just in case there is any doubt--just looking at these pictures hurts. I was an athlete...a swimmer, a runner...I think that I still think of myself that way. I avoid cameras. Seriously avoid them. I'm crafty at it. I also don't spend much time looking in mirrors, and when I do it's almost always from the shoulders up. Now I'm faced with these pictures.
Measurements:
Waist: 49.5"
Bust: 54" (over boobs) 46" (just under boobs)
Hips: 56"
Upper arm: 16.5"
Upper thigh: 30"
Weight: 317 (I've lost six pounds since May 1!)