Before and After
I had Adrienne take new pictures of me today, since I've lost 20 pounds. The first pictures were taken on May 20. I really, really, really wish I had taken some pictures on May 1. I'd already lost seven pounds when the first set was taken.
FRONT: I'm getting my face back! Whoo! I also can see a difference in my upper arms. If you look closely, the top is skin tight around my belly in the first picture and looser in the second one. I can mostly tell the difference though in my face and chest. My color is much better, too, don't you think? And for some reason my hair looks healthier.

||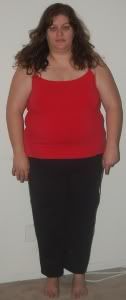 SIDE: Again, the biggest difference is my face. You can see here what I mean about my tits being smaller--but looking bigger. I can see a difference in my back, and the back of my thighs.

||

BACK: The biggest difference in this picture is how my top fits. Look at how much lower down it sits on my back now. And if you look carefully under my arms in the second picture you can see gaps in the fabric, where in the first picture the top is like a sausage casing. I think my arms look a little smaller. Ooh...and look at the bottom of the pants...because they fit more loosely, they aren't quite as high-water.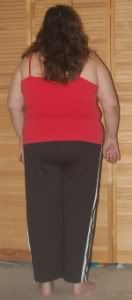 ||