The Food: Jan. 9, 2007
Since I grocery shop on Sunday, Mondays and Tuesdays are always "good dinner" nights because all the fresh stuff is still--well--good and fresh. Tonight was no exception.
We had couscous with dried cranberries and slivered almonds topped with sauted tomatoes, portabello mushrooms and fresh spinach. Nick and I also had the most scrumptious chicken and apple sausage from Sunflower Market. If you are lucky enough to have one of these stores near you, try it out. It's mild and very lean (made with ground skinless chicken breast.) Adrienne is still on her vegetarian kick (and looking fabulous. Who ever heard of a fourteen old with perfectly clear skin? I'm not kidding...totally gorgeous skin. And she looks like she's thinned out some. She hasn't lost any weight, but maybe it's redistributed or something? I'm not making a big deal about it, because I refuse to give my kid a complex. And she wasn't overweigt to begin with. She just looks fab. I'll try to get a picture, if she'll let me.)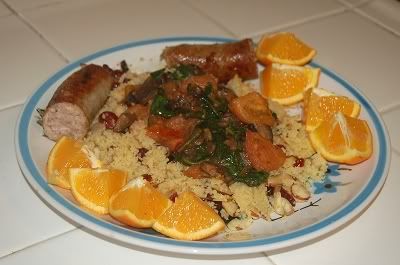 Studded coucous with veggies
one cup couscous (whole wheat and organic if you can)
one and a half cups water
one boullion cube
1/3 cup each dried cranberries and slivered almonds
Two portabella caps
Two tomatoes
Two cups fresh baby spinach
olive oil
Salt, pepper, cinnamon, white wine vinegar
bring water and boullion to boil, add cranberries and let it cook for a minute or so. Add nuts and couscous, cover pot and turn off heat. In five minutes it will be cooked perfectly.
Heat about two tablespoons olive oil in a pan. Add the mushrooms and cook until they start to get soft. Add the tomatoes and cook until they and the mushrooms are cooked through and there is some liquid in the pan. Add the spinach and stir around until it wilts. Season with salt, pepper, cinnamon and a splash of vinegar.
If you'd like to add a lean meat to this dish, cook it with the veggies.
We ate it with oranges. Super good and way healthy. Nearly every ingredient is a Superfood, except for the boullion.
Kevin and I took the baby for a walk to the park this afternoon, too. I was right. I really DO need to get off my ass. I felt so energized afterward. I still do. Ruby is the best medicine for don't-want-to-move-itis. She's such a blast.