Mexican Bean Salad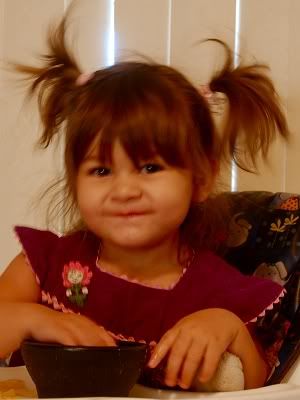 Ruby loves the bean salad I made the two days ago. It's so scrumptious!
Mexican Bean Salad
1 can black beans
1 can red beans
1 can white beans
1 can garbanzo beans
1 can corn
1/2 mild chili pepper (I use a pasilla or anaheim), chopped
1/2 white or red onion, chopped
1 bunch cilantro, chopped fine
1 bunch radishes, chopped fine
1/8 cup olive oil
1/2 cup red wine vinegar
1/4 cup lime juice
1/4 cup lemon juice
1 TBSP sugar
1/2 TBSP salt
1 TBSP garlic powder
1 tsp cumin
tobasco sauce to taste
Mix the beans, corn and fresh veggies in a big bowl. Whisk the other ingredients together in a smaller bowl. Toss it all together and chill. This stuff is seriously yummy...and it only gets better after a day or two. I suppose it could be made without the olive oil, or with less olive oil. Honestly though, it makes it taste really good, and most of the dressing usually stays on my plate, so with a serving you really aren't getting much oil. And all that good bean-y fiber totally makes up for it, IMO!