Mom...Hey Mom...What Kind of Scientist...
Nick had his first round of psycho-educational testing at the middle school Monday. He goes back this coming Monday. It went well, he did well. It's funny, but I don't think they are going to get an accurate idea of him and his behavior this way. There were half a dozen adults completely 100% focused on him. He ate it up, was the charming guy he is when there is no competition for attention. Throw one other kid in there and it would have been a totally different situation.
I've decided that I'm completely done with public school in Las Vegas. I might (or really, might not) try it in Ely. If my kids want to. I got a call from Adrienne's charter school, letting me know that she's failing. Everything. Why? Because she's supposed to log 1600 minutes, and it only takes her half that long to finish the work. Sigh. I'm just not willing to deal with this bullshit anymore.
I've been reading a lot about
Charlotte Mason
and her educational philosophy. She was a 19th century educator who was well beyond her time. She believed in gentle learning, nurturing the child's natural love and need to learn. She was a religious woman and a lot of what I've found reccomends scripture memorization and using the Bible and hymns for copywork, but that's nothing I can't work around for my secular family.
I've also been reading about
unschooling
. I love the principle. I'm scared to death of doing it. Adrienne wants to go to college. She has since kindergarten. What if I screw up her chances by taking this stand right now? Apparently, this is a common fear among new unschoolers. That's comforting. What's even more comforting is that most families who do this are shocked by the direction and passion of their children's self-driven education.
A passion for learning. What a concept, eh? Yesterday Nick spent three hours with a little tool kit and an old 3" screen TV, taking it apart. He didn't finish, so he carefully packed it away and told me that this was a big job and would probably take him an hour. This project prompted the following comments from him:
1. Mom, what kind of scientist designs things like TVs and robots?
2. Mom, I want to be a mechanical engineer when I grow up.
3. Mom, can you find me a class about electronics, this is so interesting!
It's almost impossible to explain all the things that Nick got out of taking that broken TV apart. He learned to use the tools, he cared about something enough to not leave it laying around, he asked questions (more than those three) about how TVs and other mechanical things work, he looked up the answers to some of his questions, he's developed a little passion for electronics, he was totally focused on one project for three whole hours. He felt pride in sticking with it, in not losing his cool when he had a problem reaching a diffcult screw, in carefully organizing and saving every minute screw and wire.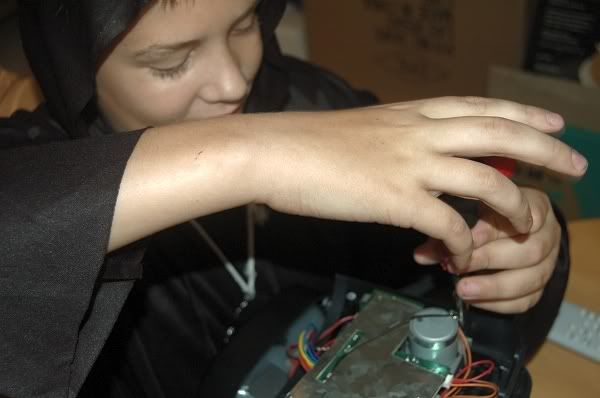 (He's wearing his grim reaper Halloween costume in this picture. In the history of Halloween, no one has ever gotten more use out of their costumes than Nick. He wears his for weeks, sleeps in them even, if they are soft and jama like.)
So, I have all these ideas. I'm really going to try to step back and not direct my kids so much that we end up with school at home. But...oooh, my ideas are so good!
1. I found this math program that lets the kids start a book store. It's really involved, takes at least four months to finish, and is really fun. It's supposed to be a virtual book store, like playing Monopoly makes you a virtual Donald Trump. But...BUT! Adrienne and Nick are going to open a REAL eBay/Amazon bookstore. I loaned them $20 for seed money and yesterday they stocked up on some educational books and toys/games to stock their store. After we're done with the lessons, they're going to open for business. How fun is that??
2. Adrienne and I are both doing
NaNoWriMo
! That's going to take nearly all her time next month, but the end result will be so worth it. Finishing a novel, I just know, will give her this feeling of accomplishment that will follow her the rest of her life. Like...if she can do this, she can do anything. I know, because that's how I felt last year when I did it. The novel sucked and it took me a year to edit into something worth reading (and...tooting my horn...
award winning
.) So, I figure this will give us a solid year's worth of writing/editing/grammar/spelling/reading.
3. I found this
electronics program
for Nick. It's slightly pricey for my taste, but I think he's going to love it. I might try to encourage Adrienne to participate, just to get my money's worth. It's an engineer who developed it. It's based on an electronics kit from Radio Shack that comes with 150 experiments. The guy developed a two year program where he goes into each experiment, one at a time, explains the science and expands on the instruction. Fun!
It's funny, when you think about it...how much your kid learns in a day. Yesterday Nick bought a thrift store set of walkie talkies. This morning he walked around the block with one, while me and Ruby stayed home with the other, testing how far the frequency would reach. He got PE, some math (he was estimating how far he'd gone, counting houses, etc.), when he came home he found a list of CB jargon and the 10-codes and read them and worked with them for a good hour. He also baked a cake (living skills, math, science.) We watched the movie, 8 Below, and he asked about animals that live in the Antartic, he learned some about working dogs, about what kind of scientists would work in the Antartic.
Adrienne mostly read today. Nearly an entire book. Doesn't seem like much, on the surface, but today is a monumental day. It is the very first time I have ever seen my daughter read for pleasure. AND she told me she wants to read every book in the "Charmed" series. Maybe not classical novels, but the pleasure, that means something, too. She seems a little dazed, that for the first time in nearly a decade she doesn't have compulsory school work.
By far the best part of this entire homeschool deal is that Nick's behavior at home has improved immeasurably. As a result of that, the fighting between my big kids has calmed down considerably. Without the stress of school, Nick is a different kid.