The Food: Jan. 10, 2007
Mmmmmmm....Good!
Tonight Nick helped me make rissoto with marinated shrimp and green beans with almonds and cranberries.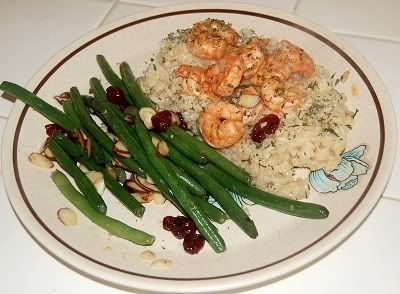 To make the rissoto I just made up a pot of chicken stock and kept it hot on a burner. I put about a cup of rice in a pot, toasted it for a couple of minutes, then added about half a cup of broth. Then Nick stirred, stirred, stirred until it was absorbed. Add half a cup of broth, and repeat until the rice is soft and creamy. About half an hour, and roughly two to two and a half cups of broth. I squeezed a lemon in the pot halfway through.
Marinated Shrimp
A pound of peeled and deveined shrimp
three garlic cloves minced
1/4 cup olive oil
1/4 cup tomato sauce
3 T cocktail sauce
cayenne pepper, salt to taste
Mix everything but the shrimp together. Dump in the shrimp and let it marinate for at least an hour. I meant to kabob the shrimp, but the sticks wouldn't fit in my biggest pan. It worked out well just stir-fried in a pan, too.
Green Beans with Almonds and Cranberries
Toss fresh, clean, trimmed green beans with enough olive oil to coat (about 2 Tablespoons.) Put them in a pan and bake at 425 degrees until softened and starting to brown. (I cooked them for fifteen minutes and it wasn't quite enough. I'll go twenty next time.) In a little bowl combine 1/4 cup sliced almonds and 1/4 cup dried cranberries with the zest of a lemon. Top the hot beans with the berry/almond/lemon mixture.
I based the beans on a recipe I caught on Bobby Flay's show on the Food Network today. Not exactly the same (who the hell has hazelnuts on hand?) and the berries were my own addition (super, super, superfood.)
If you're used to dieting, this meal might seem heavy on the olive oil to you. In reality, you end up with about a tablespoon of oil all together. Maybe less. Most of the marinade is left in the bowl, after all. Olive oil is a healthy, monounsaturated fat that gives you pretty skin and adds something that I think is very important to your meal: Satisfaction.