Brothels and Horse Races
After an entire day of focusing on it--we've got our cards and accounts situated. The person who broke into our house used our Target card five times at 7-11s (did you know you could even do that??) Otherwise, so far we don't know about any other usages. They did steal a book of checks, so we had to close our accounts.
Asshole. How is it that people can do shit like this without even thinking about how it effects the other person?
I also spoke to the Loan Dude and the Realtor Lady. The Loan Dude said that with six months to save some money and work out a few debts, he could get us into a loan. The Realtor Lady spoke to the owner about a six-month lease option (we'd give her a non-refundable down and pay an extra $400 a month rent which would go toward our down.) She says she needs a couple of days to talk to her family and her accountant.
So we'll see. Either way, the plan is to move October 1, even if we have to rent something else. I'm bringing Adrienne down this weekend so that she can stay with her grandparents and start school on the first day with everyone else. My brave girl. She doesn't do well with being away from me. Ahh...the power of 14. She's growing up. There is the possibility that Kevin will stay in Vegas for four or five months with his parents (it's a 4 hour drive to Ely, so he'll be able to visit every other weekend or so.) I'm trying not to pout too much.
Here are some pictures I took of Kevin and the kids at the annual White Pine County Horse Races. (I tried to get a picture of the horses but it didn't work out...)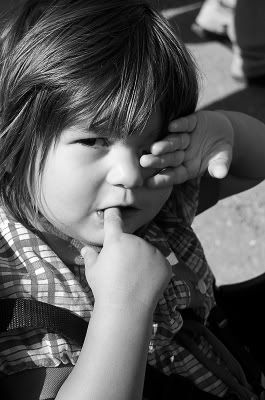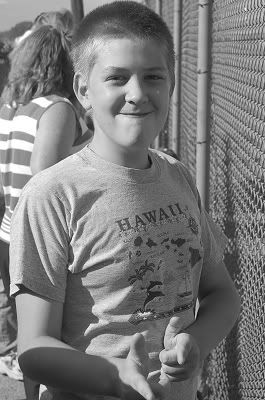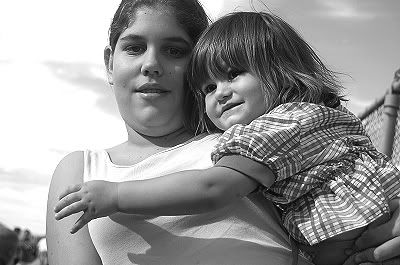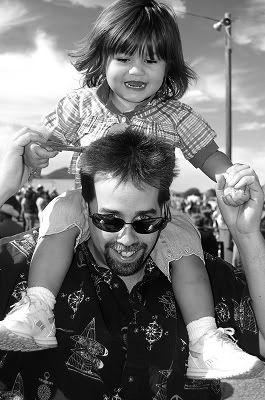 And...the brothels. Northern Nevada is pretty notorious for it's fun houses. Kevin and I came across Ely's red light district, and couldn't resist! First, the signs were really neat: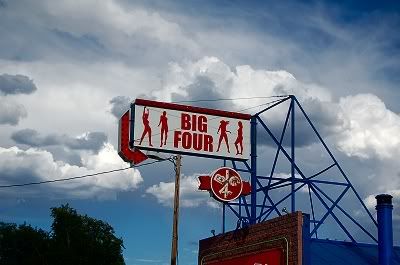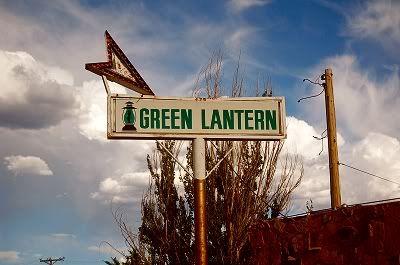 And...this one. HAHAHA!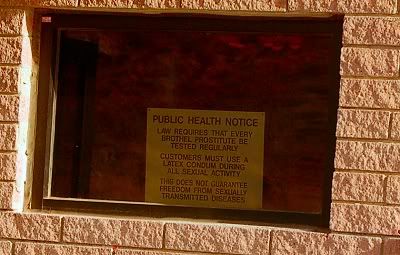 And the funniest picture of the whole weekend. When we came back around, we spotted this on the side fence of the Big Four.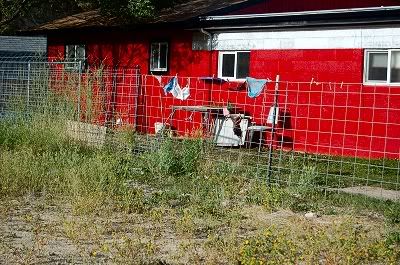 The big white utilitarian bra cracks me up the most.
I TOTALLY wanted to get out and get a better picture, but I was afraid someone might come after me with a shotgun or something. Being August, it was a warm afternoon and the doors were open. Looked like a bar to me. Funny, we only saw men inside. LMAO. I guess the girls were busy!